About Caponi Financial
Welcome to Caponi Financial
Caponi Financial is a leading edge insurance, benefits consulting, pension advisory and financial planning firm composing of credentialed employees committed to excellent client-service with an added personal touch.
This family business was incorporated in Ontario and has served both individual and group clients in Canada and the U.S. for over 42 years. Using the principles of NEED – LIKE – AFFORD we tailor make solutions unique to each client's needs.
The principal salespersons are Dennis Caponi, Sr., Dennis Caponi, Jr., Sheri Plowman, Thomas Caswell and Brian McDonough.
That is, we provide insurance and financial services using a formula which first, through a fact finding process, finds out what the client's NEEDS are, second, what products are available and which one does the client LIKE and thirdly, tailor make a portfolio or products to match the client's pocketbook - AFFORD.
Our firm offers a wide range of financial products and services for individuals, corporations and employees:
Life Insurance
Disability Insurance
Key-person Insurance
Critical Illness Insurance
Long-Term Care
Out of Country Travel Insurance
RRSP (Retirement Saving Plan)
Self-Directed RRSP
RIF (Retirement Income Fund)
LIF (Life Income Fund)
RESP (Registered Educational Savings Plan)
GICs & Deferred Annuities
Segregated Funds
Payout Annuities
Group Life/Health Plans
Group Pension
Meeting Your Specific Financial Needs
Working closely with individuals and employers alike, CAPONI FINANCIAL designs custom-made solutions to complement your vision of financial and business success.
Financial Planning in Person
CAPONI FINANCIAL will actually meet with you in person in our local office, or in the comfort of your home.
Meeting Your Changing Needs
Your financial needs evolve and change as you reach certain landmarks in your lifetime such as getting married, or the children going to college or university. That is why it is important to build a strong relationship with a firm that takes the time to know you and comprehend your needs today and tomorrow.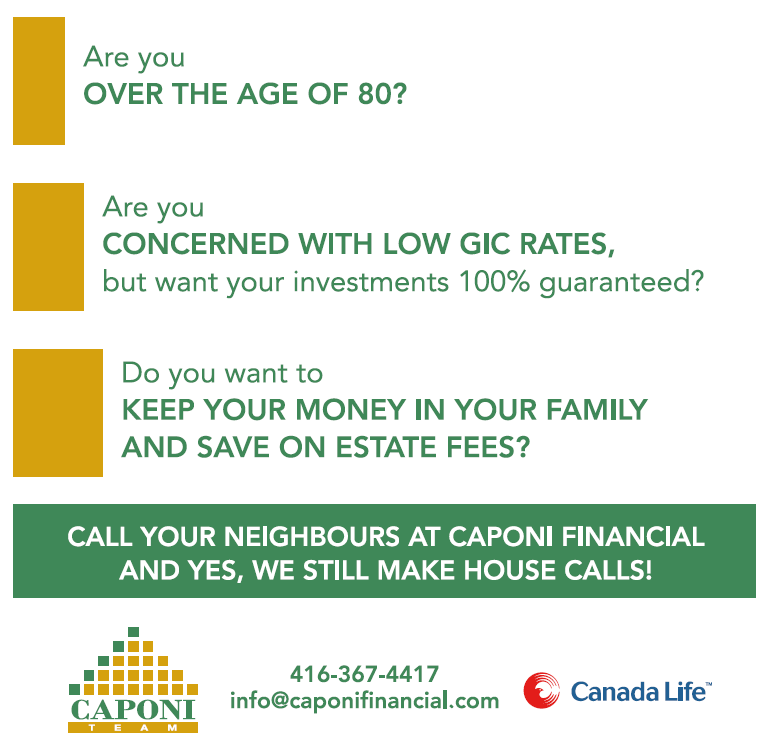 Our Team
Dennis F. Caponi, Sr.
Dennis Sr. has been in the life and financial planning business for forty-two years. He has a Bachelor of Science Degree in Economics; he is a Chartered Financial Planner (CFP), Chartered Life Underwriter (CLU), and a Chartered Financial Consultant (CH.F.C.) He is Past Chairperson of the Financial Advisors Association of Canada and has addresses groups across Canada and the U.S. on Insurance, Estate and Financial Planning. He is a Life and Qualifying Member of the Million Dollar Round Table
Dennis Caponi, Jr., B.S. B.A., CFP®
Dennis Jr. has been in the life insurance and investment business for twenty-five years. He has a Bachelor of Science Degree in Accounting from Xavier University in Cincinnati. Dennis holds his Certified Financial Planner designation and has successfully completed the Investment Funds Institute of Canada course. He is currently enrolled in the Canadian Life Underwriters course. Dennis Jr. He has been a Qualifying Member of the Million Dollar Round Table since 1998. Dennis recently completed his CEBs course to deepen his knowledge of Group Benefit policies and legislation.
Brian McDonough, B.A

Brian has been a licensed Insurance Advisor since 2006. He has a Bachelor of Arts degree from the University of Toronto. Brian's passion for insuring Ontarians through unexpected health problems, came very rapidly in his career. He began witnessing Ontarians need for expenses when diagnosed with an unanticipated and unforseen illness. He saw a need for his clients to design an insurance policy that best fits their financial portfolios. Brian assists in providing these products from all of our Canadian insurers to conserve family wealth during these difficult times that might throw off your future goals. We can take steps to help protect your family's lifestyle and savings if you are faced with a serious illness. Then, clients can focus on their recovery and worry less about money.
Whether your creating a new plan, updating your existing plan or re-designing your financial goals, Brian has a wealth of knowledge to implement a strategy that best accommodates your needs, Likes and Affordability."
Anthony Feher
Specific to our Group Life and Health business, we have partnered with Anthony Feher A.S.A., B.Sc. Anthony comes to us with twenty-one years experience in the Group business. He is an Associate of the Society of Actuaries with a strong technical and marketing background. He has written and maintained the Health renewal systems for two large Canadian Insurers and has negotiated with consultants, insurers and clients specific to their group benefit needs, with case sizes ranging from 2 to 10,000 employees. It is the NEED to have the expertise to review your benefits and provide strong representation on your behalf that sets us apart.
Sheri Plowman
As the Vice President of Administration, Sheri has been serving clients in the insurance and investment environment for over twenty years. Her responsibilities included the day to day front office operations, client service and administration expertise for a smooth flowing implementation and maintenance for our clients. She continues to expand her knowledge in life insurance and investment management to better serve our clients. She has earned her FLMI and ACS designations with Life Office Management Association, has completed the Canadian Securities Course and continues to work towards her CIM designation
Thomas Caswell
Prior to joining Caponi Financial, Tom was a senior executive at one of the largest financial companies in Canada. He began his career in the financial services industry in 1991 with a small, private asset management company. He participated in the growth of that company to its current level of a large, publicly listed company on the TSX with $80 Billion in assets under management. Tom currently sits on the several industry board of directors. Tom adds extensive industry knowledge to Caponi Financial utilizing his twenty years experience in finance. Among his designations, Tom holds the Canadian life insurance license.
Book a meeting
Save on Benefits...Benefits your way!
Visit Now
FREE LIFE INSURANCE QUOTE
Enter your date of birth to get started.